What's the main aim of digital marketers? To make sure the right audience receives the right message at the right time. Fair enough! For this, marketers collect extensive data to understand user behaviour and buying patterns.
Unfortunately, customer intelligence doesn't necessarily help the digital marketers achieve the desired results. This is because there are so many marketing channels out there that it becomes impossible to sift through all the relevant data efficiently in order to discover and fulfill every customer's needs and desires.
This is where Digital Management Platform (DMP) comes into the picture. It allows you to create one-to-one communication that is based on data. It helps you orchestrate all digital marketing efforts that deliver in terms of both breadth and accuracy across all channels.
How does a DMP work?
A DMP assists the digital marketers in collating a stream of incoming, real-time data from internal and external sources that is actionable through multiple channels such as web, email, mobile, tablet, etc.
A DMP collects and categorizes both first-party (digital properties owned by you) and third-party (demographics and behaviour from interaction on websites not owned by you) data. This allows you to define your target audience that perfectly fit the criteria.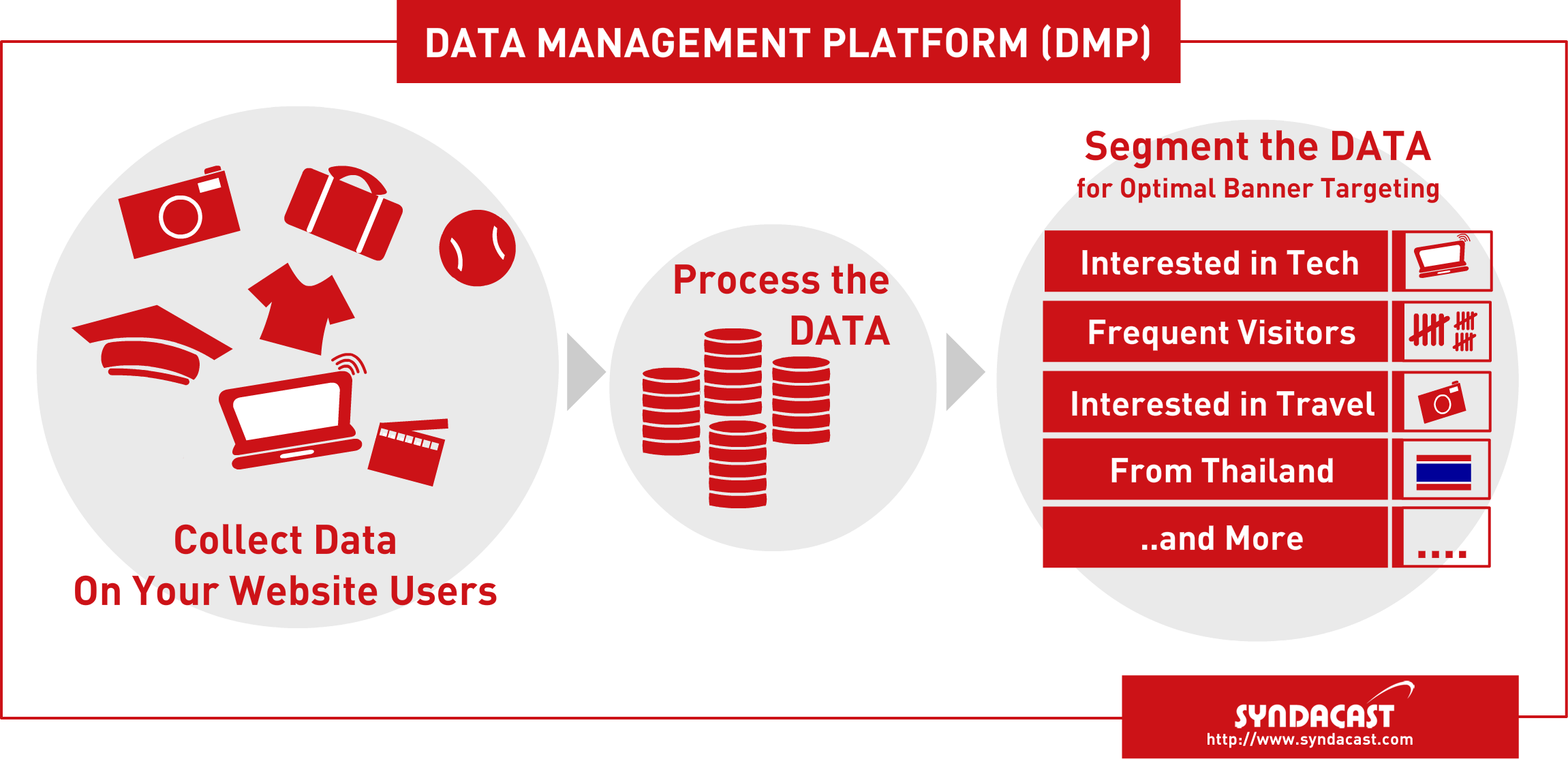 The collected data is then broken down into personalized and relevant messages and sent to that particular target audience. The entire process helps the digital marketers in communicating in more meaningful ways.
In simple words, with the use of a data management platform, digital marketers can collect and analyze behavioural, geographic and other forms of data only to optimize, and advertise the communication efforts in the right direction and towards the right audience to achieve organizational goals.
The rise of use of DMPs
According to a 2015 article by eMarketer.com, more than 50% marketers have already started using digital management platforms and the number, as of now, is on the rise. But there are over 25% of those who have not yet started plan to deploy it soon.
The reasons to do so are many. 24% marketers believe that a DMP would give a good boost to their faltering marketing ROIs and 19% said they want to derive actionable insights to deliver the right marketing message across all channels, and hence would go for using a DMP.
Why is a DMP so important to digital marketing?
1. Data organization
The information (customer ID, email address, their buying or search history, etc.) is pulled from different systems. The DMP imports this data and organizes them so that digital marketers can not only get an overview of the prominent behavioural patterns but also get clarity on the message they want to send out.
source
2. Data interpretation
What's the point of having a limitless supply of data when you can't do anything about it? That's what a DMP is for! It enables the digital marketers to make actual sense of it and create a strategy that is actionable.
3. Market segmentation
Digital marketers can set parameters for their target audience (e.g. females in Singapore over 30 who use an iPhone), so as to make the process of segmentation a lot more simple. Creating effective ad campaigns becomes a piece of cake with this.
4. Data integration
As mentioned earlier, a DMP collates first-party and third-party data sets which are then segmented for further use by digital marketers. The software then targets potential buyers who can be sold online ads.
A major rule of using DMPs is "the more data you have, the better context you will get". This would enable you to eventually yield far more better results from those campaigns.
5. Audience retargeting
With the help of a DMP, digital marketers can know which marketing campaign worked and which ad placement grabbed the maximum eyeballs.
For instance, metrics such as checking how often a visitor frequents an online store to browse through a particular item can enable the marketer to send a reminder to him or her to return back to the website and finalize the purchase.
What's the role of Wigzo?
Wigzo offers a number of services – fit for varied businesses and functions. For something related to data management platforms, this automation suite can help you in the following ways:
1. Machine learning
Wigzo is able to track users across online and mobile apps and website. Besides, it gives out predictive content recommendations.
2. Omnichannel personalized communication
It ensures granular level user segmentation by sending the right message at the right time and on the right device with tools such as email, push, web notifications, etc.
Wigzo not only leverages Big Data technology to bring relevance to the customer data but also creates personalized experiences across all customer touch points from a single, integrated digital marketing platform.
In a nutshell…
The digital world is brimming with data and only if you know how to use that data can you do much to achieve the desired customer experience. But as a digital marketer, you can't do that alone and should take help of a DMP.
A DMP has the potential to increase positive outcome rates, optimize spending and efforts, realize better customer understanding and improve media effectiveness – only to arrive at data-driven decisions.